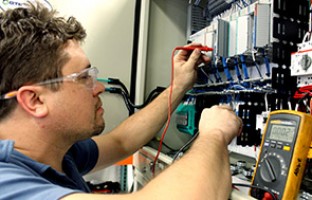 GTE is a tier one supplier of instrument and electrical control systems to global companies in the power generation and oil and gas industries. GTE's solutions range from stand-alone proprietary systems supplied with OEM equipment, to fully integrated, remote-monitored, hardwired satellite, radio and web-based systems. These systems provide operator and supervisory control, alarming and monitoring, as well as administrative performance summary analyses.
GTE's engineers design and manufacture a wide variety of mechanical, electrical and instrument and control panels for almost any application. Our panels have been certified by major international independent agencies including UL, CSA International, ATEX and CE; and we are ISO 9001-2008 and UL 508A and 698 certified. We are qualified to meet hazardous area classifications up to Class 1, Division 1, Groups B, C, and D.
GTE designs and fabricates from functional specifications or prints for new build as well as modernizations of existing equipment.