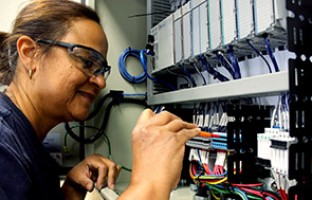 GTE is a tier one supplier of instrumentation panels and control panels to global companies in power generation, oil and gas and related industries. GTE's offerings range from stand-alone proprietary systems supplied with OEM equipment to fully integrated remote-monitored and hardwired satellite, radio and web-based communications systems. GTE designs and fabricates panels based on functional specifications or prints for new build, as well as the modernizations of existing facilities.
Our designs and fabrications include:
PLC/HMI and Operator Interface
Generator Protection
Performance Monitoring
Seal Gas
Flow Metering
Turbine Controls
Relay Protection
Process
Gas Chromatograph
See our work in the Media Center.
GTE's control system engineers and technicians provide a full range of support for PLC-based industrial system applications. This includes logic design, programming, modifications, upgrades, troubleshooting and repair. Our engineers and programmers are extremely knowledgeable of several leading brands of PLCs and user interface software and have completed factory trainings for Allen-Bradley, Siemens, Modicon and other major providers. Their expertise includes knowledge in Control Logix, Compact Logix, SLC500, Micro Logix, HMI and all associated software.