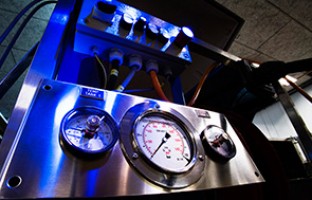 Gas turbine compressors consume approximately 60% of the overall cycle energy during operation. This cycle consumes large quantities of air and although this air is filtered, small quantities of dust, aerosols and water pass through the filters and deposit on the blades. These deposits decrease the air flow of the compressor and the overall performance of the gas turbine.
Compressor cleanliness can be maintained using a routine program of water washing. There are two water wash methods performed on gas turbines: offline and online. Offline is conducted with the gas turbine in a cooled state using cranking speed, while an online process is conducted with the machine at operating temperature and uses water only. Both operations use highly atomized water spray patterns designed to completely enter the compressor core. The offline process cleans the entire core and recovers lost performance, while the online cleans the early stages and extends the time to provide peak availability and higher average power output.
The patented GTE highly atomized compressor wash system will offer the gas turbine operator the following improvements:
Availability: ~ 2 %
Performance/Output: ~ 3 %
Heat Rate: ~ 1 %
Payback: a few months
The GTE compressor wash system is proven on more than 1000 stationary gas turbines, includes models from GE, Siemens, Rolls-Royce, Pratt & Whitney and others. The experience totals more than 30 million hours of gas turbine running time.
Contact our team today to see the benefits of a GTE advanced water wash technology solution.