Examples of auxiliary systems: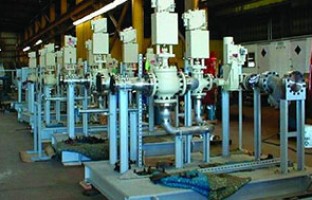 Lube Oil
Fuel Filtration
Water Injection
Gas Conditioning
Fogging
Fuel Forwarding, Metering and Mixing
Prefabricated Piping and Tubing
Utility Auxiliary
Steam Injection
Fluid Pumping
Gas Purge
Power Augmentation
Water Wash
GTE maintains a staff of over 30 engineers and designers with backgrounds in mechanical and electrical engineering, fluid systems and instrumentation and controls. Employing the latest 3D modeling and analysis software allows easy solution of interference issues, parametric control of design changes and optimization of the fabrication process. Working with conceptual ideas, we provide you with a complete design to meet operating requirements and work with your existing design to provide lower cost alternatives. We review all aspects of the design to ensure that nothing is over-specified, thereby eliminating unnecessary cost.
Contact our team today to integrate our advanced auxiliary solutions at your facility.